From the Greenhouse
Learn More About All of Our Microgreens, Mixes, and Ready-to-Eat Food Items
Our microgreens are at the heart of everything we do, from our bulk microgreens, to microgreen mixes, to microgreen infused smoothies, juices, ready-to-eat-foods and more. This is where we got our start and what we'll continue to master moving forward.
Our microgreens are mindfully grown, chemical free, from organic seed and grown to beyond organic standards at our urban farm in Madison, Wisconsin since 2009. We produce microgreens year-round in our custom designed growing facility utilizing fresh vortex brewed structured water, bio-energetics, and bio-dynamic ocean mineral solution, for the most healthy, flavorful, and nutrient-dense microgreens possible.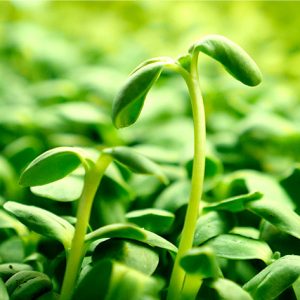 Everybody's favorite! Our most popular microgreen and the first microgreen we grew since 2008.
Contain 72 Minerals,  Essential Fatty Acids That Break Down Cholesterol, Detoxify Radiation,  Good Source of Protein
Great anywhere. Entrees, salads, burgers, pizza, vegan and vegetarian dishes, snacks, juices, smoothies, garnish.
Pea shoot microgreens.
Contain 38 minerals, vitamins A, B, C, E and K. Antioxidants, phytonutrients, chlorophyll, all essential amino acids, 26% protein(higher than chicken or beef
Salads, entrees, stir-fry, snacks, vegan and vegetarian dishes, sides, juices, smoothies, garnish.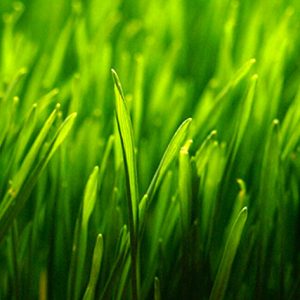 Rich nutrient powerhouse.
Contains 92 minerals, all essential amino acids. Loaded with vitamins, live enzymes antioxidants & chlorophyll
Grassy flavor, surprisingly sweet when compared to most wheatgrass
Juices, smoothies, wellness shots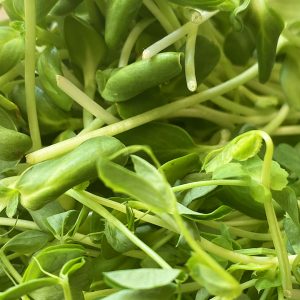 A combination of our two most popular microgreens.
Contains a balance of nutrition high in vitamins, minerals, essential fatty acids, with protein.
Balanced Flavor. Pea  flavor and mild nutty flavor.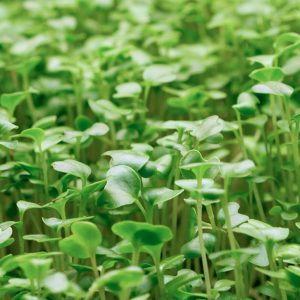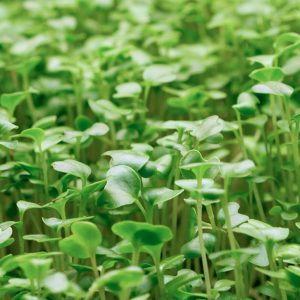 Our microgreens mixes combine our microgreens to create unique explorations of texture and flavor. Our mixes include microgreens that are not sold alone to create dynamic combinations perfect for home, bulk, or restaurant use. Our mixes are perfect flavor combinations that are perfect for salads, wraps, snacks, cooking, and garnish.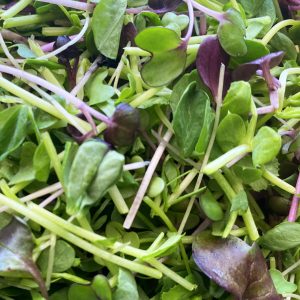 Our best-selling microgreens mix. Balanced flavor.
May contain Amaranth, Beets, Broccoli, Kale, Mizuna, Pac Choy, Purple Kohlrabi, Rambo Radish, Peashoots, Sunflowers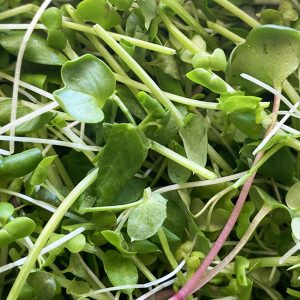 Spicy mix.
May contain Amaranth, Arugula, Broccoli, Kale, Mizuna, Mustard, Pac Choy, Purple Kohlrabi, Daikon Radish, Hong Vit Radish, Pea Shoots, Sunflowers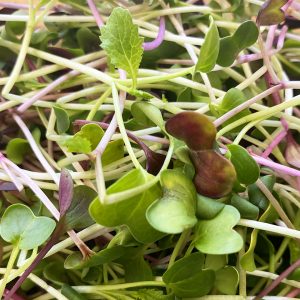 Rainbow radish mix.
Hong Vit Radish, Rambo Radish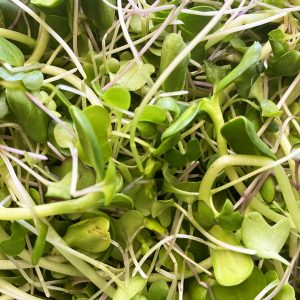 Brassica mix.
Broccoli, Red Cabbage, Kale, Purple Kohlrabi, Sunflowers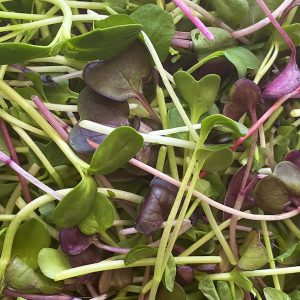 Supercharge salad mix.
Sunflowers, Peashoots, Red Rambo Radish, Hong Vit Radish, Daikon Radish